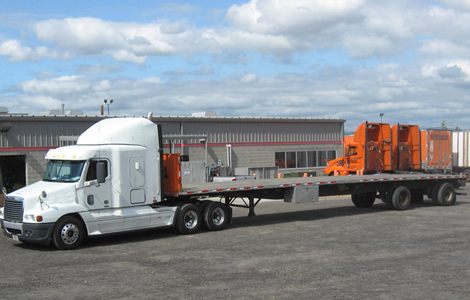 Flatbed Trucking is a method of shipping generally used for industrial commodities such as construction material, machinery, vehicles, and others. It is commonly used for transporting shipments to and fro construction sites or other shipping points that have no dock for loading and unloading.
At Teleport Logistic Services Inc., we are a trusted transportation company offering an array of flatbed trucking solutions to customers who want to transport heavy equipment anywhere in North America.
What Are Flatbed Trailers & Who Need Them?
Flatbeds are trailers with no enclosures or doors. They're specifically meant to haul equipment or commodities that are too large to fit in a van. One of the great features of these trailers is that they can be easily loaded and unloaded from the sides or the top. They're perfect for oversized or irregularly shaped commodities.
Since flatbeds come in different types and configurations, such as step trailers, double drop trailers, goose neck trailers, stretch flatbed trailers, stretch deck trailers, we'll help you find the right flatbed to haul your freight.